Five years ago Logan, Sherrie, my sister Anne and her husband Dennis had a WONDERFUL trip to Playa Del Carmen.

5 years later(five? FIVE!) we decided to go back. This time with just Logan and Sherrie.

What's the difference in 4 and 5?
TL;DR Going to mexico in our planned March timeframe, or re-scheduling for June.
March 9th, 2021

"We went to Mexico 4 years ago..right?"
"Yeah, 4 I think"
"Cool, Logan 's passport is only good for 5 years"
Turns out, we missed by …THAAAAT much. It was 5 years ago, and Logan passport expired Feb 27th. Due to covid, there are no 'emergency passport' facilities. So….we cancelled March and re-booked our trip to Playa Del Carmen for June. There was no way to expedite the passport, so we ordered a new one(kids passports don't get renewed) and re-booked.
Mexico? What's Mexico like.
Uhhh….everything is great, and fantastic value for dollar …IF you can deal with a few things:

A. expect things to take too long. Everything. Paperwork is built into society as a public-works thing. It took 3-5 people to check us in at the very posh Barcelo Palace Deluxe in 2016, despite already being checked in online and already having a room number when I stepped on the property.
B. Things are beautiful at resorts, but don't look too closely. If you build something well, you're done. If you build something half assed, you'll get to keep fixing it indefinitely. The resorts work VERY hard to make things beautiful, but many times they are fighting nature(hot/wet) and poor build quality(unsealed windows letting in water during a tropical storm)
From a buddy "Sounds like Italy"

Me: "Yeah, a lot like italy…now that you mention it. With more tequila and less wine"

So….I've now been to 2 resorts in the playa del carmen area(1 hour S of Cancun airport)First was pre-covid and more $$(Barcelo Maya Palace mega resort) Second was "The Fives Beach all Senses" June 2021.
I've been to Cancun and Puerto Vallarta(and Tiujana a few times in the 90s)

Back to Playa Del Carmen.

I really liked both resorts I've been to. Barcelo was $$ more and HUGE(7 resorts inside the complex 1.8 miles around the complex) This was also pre-covid so I got to sample the Barcelo at normal working capacity.

Fives was seriously good value for $. The property is beautiful and well maintained. It's about 7 minute walk across the resort, so not small, but not huge. We did have a 24 hour period where the power would drop randomly(3 times at dinner)

But, everyone(staff, guests) were super-friendly. Great vibe at the resort. Kid had a blast -> solid trip

Mexico Thesis:

It's Mexico! Relax, love it, plan extra time, don't look too hard at anything.

Plan Stay at the Fives Beach all senses resort. Was a smoking deal from Expedia and this trip was rescheduled from march, when we learned that Logan's passport had JUST expired…whoops.

The reviews for the Fives are all over the place. Lots of 5 starts, lots of 1 stars, even recently. I was confident when I booked, I'm less so after reading the recent 1 star reviews.
I'm a bit nervous, but we'll see what we see.

6/17, Thursday Afternoon, arrival
Chaos on landing in Cancun. Rain concentrating the morass of humanity under the outdoor awnings. Taxi drivers, shuttle services, timeshare people, tour/attraction people, food drink people are all vying for attention and your dollar.

Plan: Shuttle Central guy will have a Shuttle Central jacket and be holding a sign with our name on it.

Reality: No guy in a jacket, no sign. After asking around we're pointed to a guy with an Expedia jacket. He checks his list and finds our name, then  sends us out and around the way about 400 yards into the parking lot to find and talk to more Expedia folks. We do that, they also find our names, then we stand to the side for about 25 min for shuttle. Rahul the shuttle organizer chats us up before guiding us to our shuttle driver Rahul. We're flush with Rahuls around here.

Pouring rain but temps are pleasant in the low to mid 70s. I expected to be melting into the concrete in June.

45-minute drive in the pouring rain. Shuttle driver doing an amazing job getting us down to the hotel at maximum allowable velocity.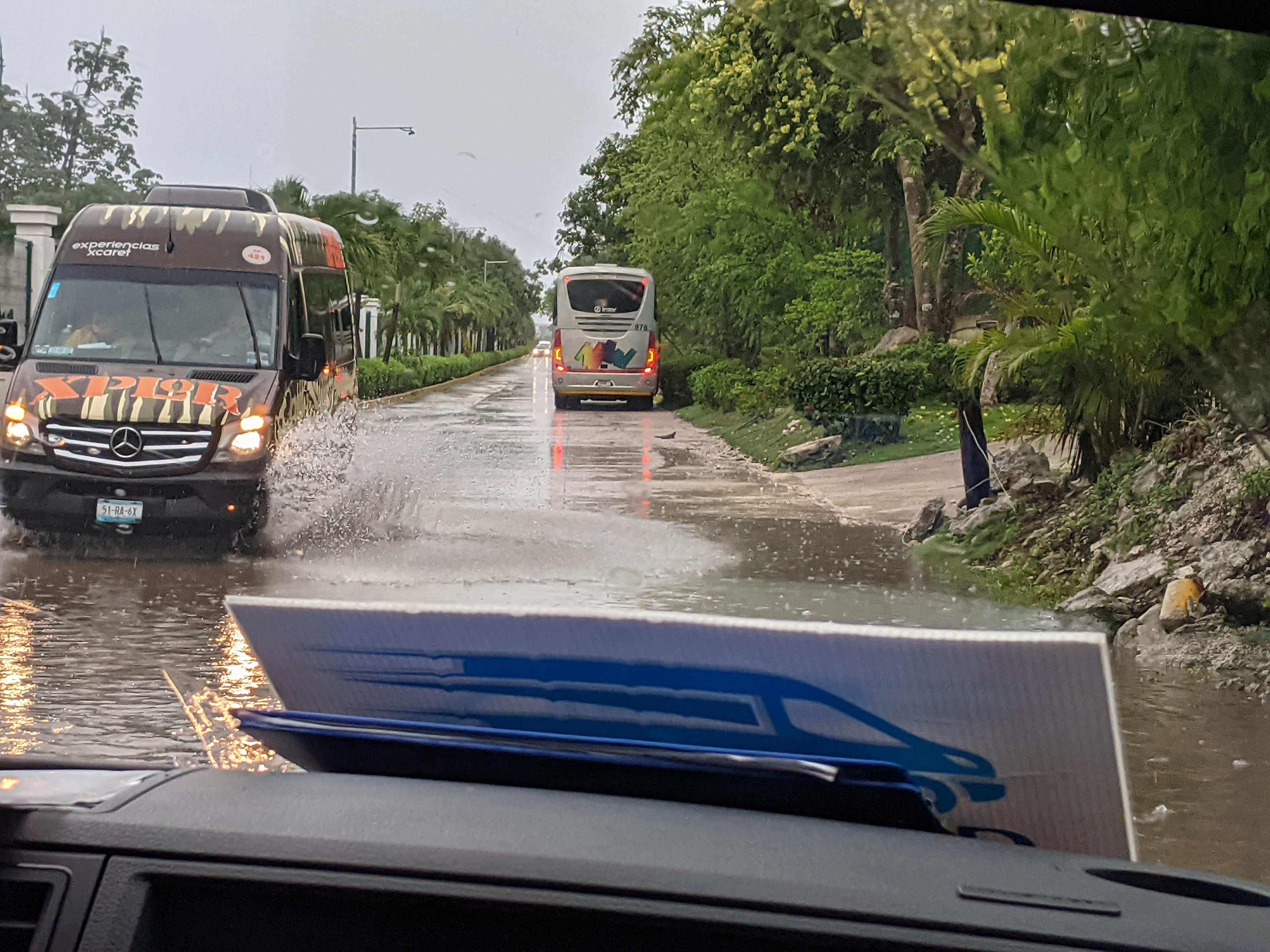 We get the Fives hotel and there's a bit of chaos at check-in.  No worries it's Mexico. As were standing in line, a nice woman comes over and we're whisked out of line and pulled off to a desk on the side. I think the upgraded service came with our upgraded room, but it's hard to tell. We had booked a rooftop terrace suite.
Sherrie's thought was due to covid, it might be a good idea to have a room with a kitchenette and some private space in case we had to spend too much time in it.
A wonderful gentleman named Miguel came over and told us due to the insane amounts of rain they've had recently, our original rooftop terrace suite was out of service. Uh-oh, but it's Mexico… Whatever.

He offers us a two-room suite that is a swim up by the pool… Wait what? Score!

We get to the room and it is a fantastic, wonderful two-room suite with pounding air conditioning, a kitchen, and a beer stocked refrigerator. Ok, this is a solidly good start to a vacation!

We take a brief light-rain tour of the property, and it's pretty.
Walking back to our room. We grab a couple tacos at the on-prem taco cart and they are excellent.
Logan can't wait to get in the pool near our room.
COVID thing: All restaurants at the Fives are reservation only for dinner.  Breakfast and lunch are walk up whereever.

Logan and I go outside and enjoy a few hours in the pretty cold water pool and have a blast. Sherrie passes as cold water is not her thing.

As Logan and I play, Sherrie goes to find a concierge to book dinner. She is told all restaurants have been already been booked for the night so we end up just ordering room service to the room. Room service takes about an hour The food is good but really small portioned. The cuban sandwich I ordered was about 1/3-1/2 the size I was expecting. We should have ordered a few extra entrees or apps. Not wanting to wait another hour for more food, we decided to give in to exhaustion.

Family had been up and on the move since 4:00 a.m. the previous night. I got my typical terrible terrible no-good night sleep. At some point in my life I'll probably be able to get a decent night's sleep before an early flight, but it hasn't happened yet.

We pass out at the advanced hour of 8:30 p.m.

Get an okay night sleep quality wise but make up for it with sleep volume… sleeping in until about 7:30. Coffee in the room then breakfast at the brassiere. It is line order buffet but pretty darn good and we have no complaints. Walk around the grounds check out the pools.
It's a beautiful sunny day with a 12 mile an hour breeze. Not a good day for the ocean as the onshore breeze is blown in a lot of seaweed…. a lot-lot of seaweed….no more seaweed than that.

We walk down the beach and see a few other resorts and several properties which have been abandoned mixed in with the currently maintained resorts.

Check out the gym on the way back to the room and it's actually a well appointed gym Good selection of treadmills machines few dumbbells a kettlebell or two, solid for a resort.

Mexico Cellphone Oddity: Have to spend about 45 minutes tinkering with my phone setting to get internet access.
I have the international package added to my phone and I can get voice and texts, but no internet. This is a thing as my phone is tied to my google voice number..which doesn't work without internet access. This is notable as EVERYONE(United Airlines/whale shark tours/bus service) has my google voice number. It needs to be in service for our trip or I need to start calling everyone and updating my contact phone number. Hoping to get my cell working as this is not the way to spend a vacation day.

I'm on Verizon. I find I end up having to manually select Movinet rather than the phone-preferred TELCEL network and twiddle my advanced carrier settings from 'global' to lte/gsm/umts.

I now have working data and google voice…whew!

Head to the pool play and catch with Logan. Get lunch at Sea Olive restaurant. Fantastic lunch, steak and bean sandwich. Logan got mahi and it was excellent. Workout at the gym and feel 10 years younger. Back to the pool and have drinks and play more pool-catch with the family.
The Fives, a few pictures

Have dinner at Koh Thai restaurant We booked one of the outdoor bamboo cage/tables and the food and atmosphere were great. The cages are free if you buy a $70 bottle of wine. The view/wine and food were excellent. Again, really small portions, but you can order more as you see fit. Had a wonderful dinner here. 10/10 enjoyment.

Sat
Wake and get breakfast at the brassiere.

We get the bad news that our whale shark snorkel adventure book for Sunday is cancelled due to a tropical storm in the area. Bummer, but probably better than being an hour's fast boat ride offshore in heaving seas.

I've been to playa del carmen before but have never been 'downtown'. Take taxi to fifth Ave to see what downtown Playa Del Carmen is like.

TL;DR unless you're 20-something and looking to do shots….I'd likely pass.
5th Ave is typical Mex tourist traps and trappings. Getting there from the resort is a bit of a racket given the distance. It's about 6 miles from the resort to 5th ave, and a $20 cab ride each way. Get a few cheap t-shirts look around a bit then jet back to the hotel.
"Hey senor, Don't you remember me, I'm your waiter from last night…"
Got that line at least 3 times….Those resort wrist bands are a give away.

Pool time near the room then head to Lizards restaurant for lunch. I won with a chicken bean tostada as the best choice of our party. Portions small. Ok, small portions are now a thing. Head to pool and play w Logan and have a blast.

We realize heading out of the resort might be a good thing, and luckily the resort has an on-premise adventure desk.

Book Xel Ha excursion with the really awesome staff at the adventure desk at the Fives travel center.

Xel Ha was a recommendation from a former football coach of Logan's and a family friend. Figure this is as solid a recommendation as it can get.

Chill under the palm trees on the sand and enjoy some seaside bar service.

I make a late day ocean swim to concrete wave barrier in the ocean. Less seaweed today.
Dinner at Sea Olive. Slow service, great salmon.
Sun Xel Ha
Alarm wakes at 630. Get the bus to xel ha at 730. About 45 min easy drive and we're there. Like Disney world w cenotes. On the drive down we're pummeled with options for 'additional extras' which we have the option to purchase. Most of Xel Ha is all-inclusive but they have some top shelf options which are more $$. Man it's getting a bit tiresome being sold to 24/7.
Xel Ha

Of course you enter and exit through the gift shop.

Extra purchase: A zip bike tour. We tried  to get Power Snorkel but it was sold out. Power snorkle was snorkling while getting pulled around with an propeller driven water sled.

The sold out portion … Turns out it was the best thing ever! (Tm)

Late day we ran across the Power Snorkel group. The power snorkel was in a cove choking with seaweed. It looked miserable and nasty in equal parts.

We bicycle upstream on resort loaner bikes, then snorkel the lazy river see number a rays. Not much to see near the mangroves. but snorkeling in the mangroves was pretty groovy to do and see.

Get done and do the large tower slide. Bit of a wait, but ride was super fun and worth it.
People in line were friendly and it was a good time.

Decide to get late breakfast then head back to tube down to lazy river we had just snorkeled.
Logan and Sherrie stop to jump off a cliff.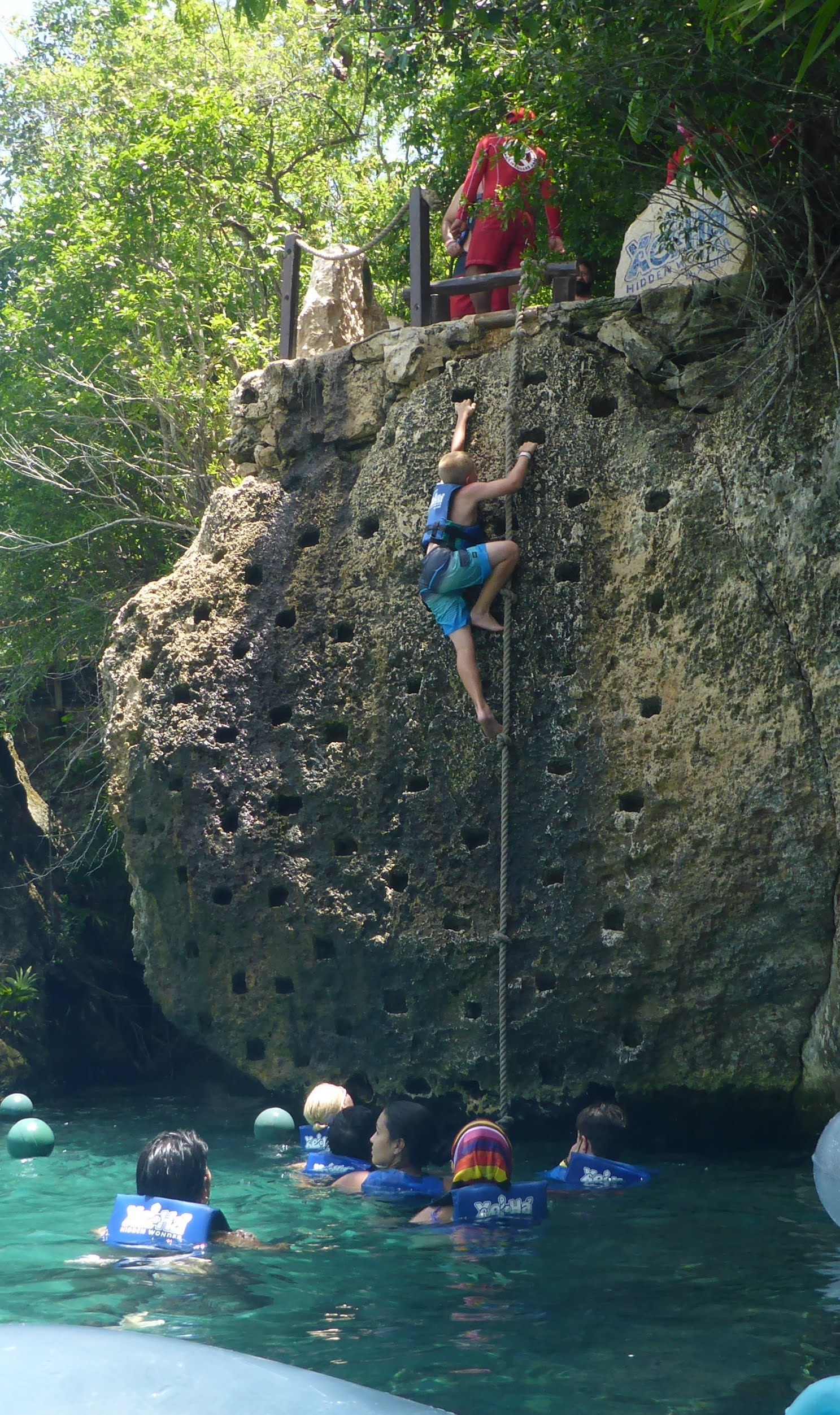 We race downriver and ditch the floats then split up to get to lockers and race to the bikes in sandy flip flops to get to the zip bike area for our scheduled departure time.

Zip Bikes are ok, but person near the front having a lot of issues. Lots of hanging around… literally.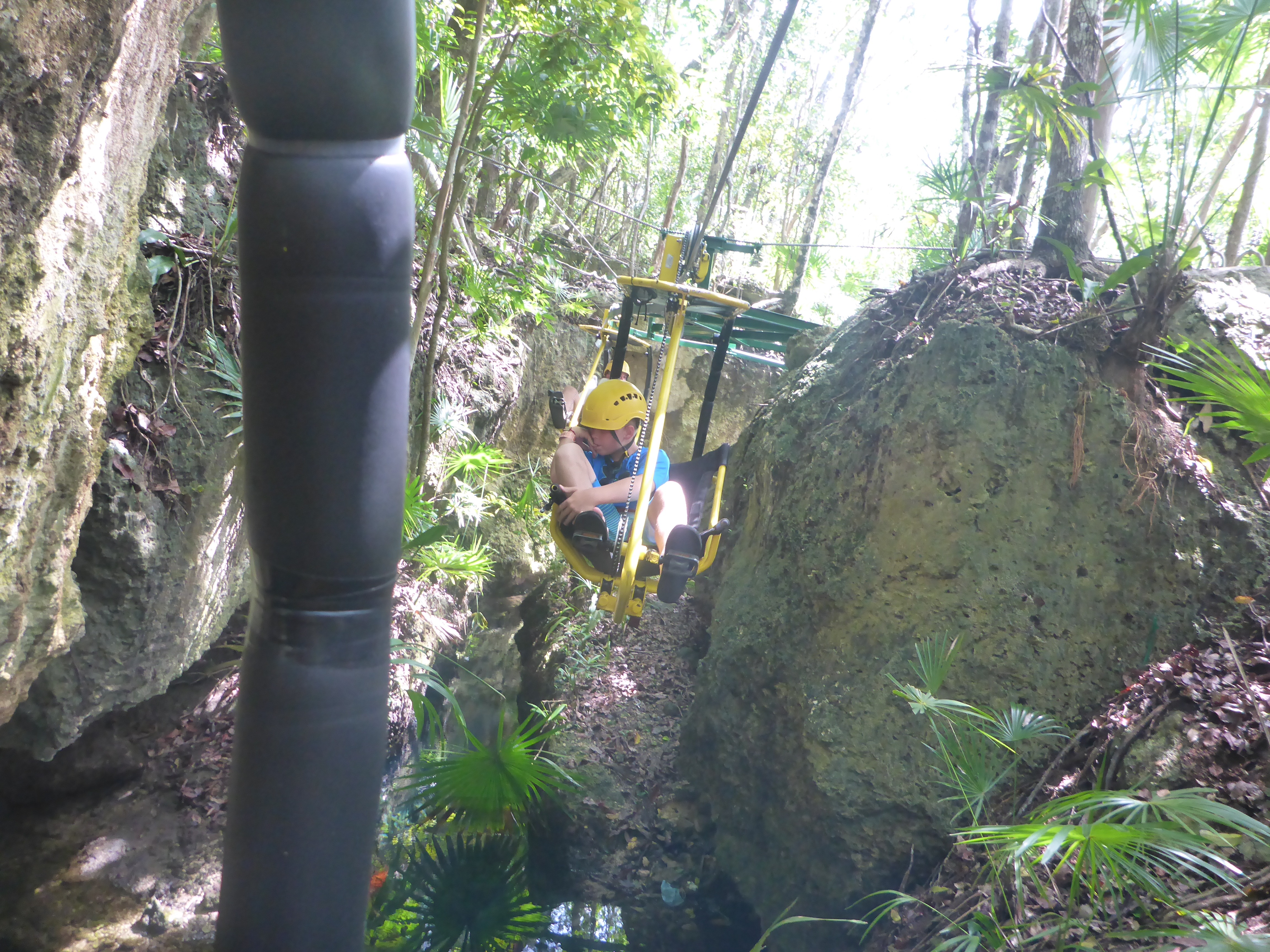 Logan was not impressed with the hanging around "Dad what's up, why are we stopping AGAIN"
This sentiment is echo'd by the kid behind me talking to his dad, and Sherrie reported a similar conversation ahead of her.

I go glass 1/2 full when we get out and explain to Logan if we did that tour at Pasko-pace, we would have been done in 5 minutes…maybe less.

So, overall I think the zip bikes were barely worth doing for the extra cost of about $40/per person.

Xel Ha impressions

Xel Ha as a whole was really good and we had a blast. I'm not sure how the experience would have been non-covid. The park was crowded as it was, and I think they were limiting the number of people in the park. This could just be me though, I hate crowds and have a severe allergy to them.

Get done with zip biking and head to get lunch as the low battery light was on for Logan and Sherrie.

Decide to do zip line adventure and have fun grip zip competition to see who can hang on the farthest. I learn that by doing a pull-up at the very end I get another 30-40 drag free feet….. victory!
We shower up and get to the bus on time…. But we are about the only ones on time at 5:45….
Should have stocked up on beer at the gift shop…..

Looking back it was GREAT I didn't get beer. 1.5+ hours to return with no bathrooms might have made for a much much longer ride back.

6:13 and the bus starts moving. It takes until 745 to get back to hotel. Late dinner at brassiere. Food was good. Power drops a few times during dinner. Our waiter was great.

Mon breakfast and gym time.
We all work out then do the "Bring Sally Up" squat challenge.

Logan and Sherrie are done and head back to the room. I have a few things I want to do to finish up.

The Gym Nazi(tm) arrives. Promptly boots a jacked and fit guy for wearing sandals after making guy wipe up anything he was ever near in the gym on his way out.

Lady proceeds to run around the room and 'hola' about 1/3 of the people working out.
I've just transitioned from doing tricep pushdowns to situps as I see her approach.

"hola! You need to wipe down the bar with paper and sanitizer!"

Drat, I've been gym-chastised….
I finish my situps, get a paper and wipe down the bar. As I do this I see the lady heading over to 'hola' someone else.

The gym lady has become a meme for my family in the great Senfield tradition of The Soup Nazi.

We head back to the room and Sherrie and Logan swim in the pool out back.

We head to the main infinity pool and grab pizza for Logan and tacos. As a note, the daily taco stand is pretty great.

Sherrie has booked 2 massages at the on-site spa. Having seen what resorts in Vegas charge for massages I ask if this is a complete rip off or reasonable.

Sherrie responded: "They are comparable rates and I'll buy, it's my treat"

I'm excited for the massage, get to the spa and fill out paperwork. They ask me to sign the receipt and I have a mild heart attack
.
The peso dollar conversion rate must be off in my head. I seem to be miscalculating what ~9700 pesos is in USD….I'm vapor locking thinking 'this can't be right' with my mental conversion.

"Excuse me, can you tell me how much that is in US dollars?"

"Si senor….it's $500"

W, T, F.

"uhh…sorry I can't get a $250 80 minute massage, my wife might want hers, but I'm out"

They were very nice about it.

I leave, then turn the corner and run into Sherrie and Logan heading to get ice cream. I ask Sherrie W, T, F?

"It was going to be my treat!"

"I can't enjoy a massage for $250, seriously, downtown I can get 2 hours for $50, pretty sure I can walk down the beach and pay $75 max for a 90 minute massage. I literally can't enjoy a $250 massage"

Sherrie kept her massage, taking my time slot and I headed to the beach to chill with the midget.

We hang on the beach chairs and in the pool and have great conversation about football and life. It is a most enjoyable way to spend the afternoon.

Sherrie joins us around 4pm and we have a drink or two and head back to the room.

We booked dinner and wine at Koh Thai again, and the outdoor bamboo cage/tables are excellent…again. Seriously, the $70 bottle of wine to book this was a steal. Enjoyed the wine, enjoyed the view, enjoyed the food and our waiter was excellent.

Swing back to the room and pass out in the oh so fantastic air conditioning.

Tues: Checkout day
Grab quick breakfast at braserrie then pack up.

Take a quick walking tour of the walkway over the on-prem cenote, then grab our bags and head to checkout.

Everything takes longer than you'd expect, and my first check out action is to take a survey about our trip. 5 minutes later, I'm signing for the room charges. Everything was spot on as-expected including our trip to Xel Ha, bottles of wine at Koh Thai, few coffee drinks and of course, Sherrie's heart attack inducing massage cost.
It takes several attempts to process my credit card and I of course sign many small pieces of paper.

We finish(?) check out with about 45 minutes until our shuttle. Total time to checkout was in the 15 minute range and this was an absolute best-case scenario.

Sherrie "We still have 45 minutes, I figured it would take a bit, but not THAT much time"

"There was no one in front of me, if there were 5 people trying to check out, it would have been tight"

Our shuttle pickup is roughly on time and the fellow is a man on a mission heading north. We fly up to the airport. We check in, clear security easily and get food at the Guy Fieri American restaurant. Food is HUGE, we could have easily got away with 2 entrees for the 3 of us.

I buy pepto and Logan and I split the bottle. Both of our stomachs are off with a mild case of montezuma's revenge.

I end up questing for a bathroom, which I didn't think would require such a quest. It took touring 5 restrooms before finding one with a working/serviceable/available stall in the Cancun airport.

So the trip was fantastic, but it was very Mexico. Really loved almost everything, but don't look too hard at anything or expect efficiency. Leave extra time for Mexico to be Mexico, enjoy the hospitality, sunshine and drinks and try to get into the manana mindset about….everything.

Tip if you can, and tip often. Those $1 tips really help the locals and really although the drinks were free, that lady had to walk it down across sand to bring it to you.
Logan Top 5

Xel Ha(ziplines into water), Thai Restaurant, Infinity pool, Breakfast at the brasserie, Hotel Room in general.

Sherrie top N
Reading on the beach Swim up pool/room, Xel Ha, waterslide/tower, Super super really really ridiculously overpriced massage <Best Zoolander voice here> Coffee shop, Gin bar, Street tacos for lunch, Kho Thai papaya salad, playing catch in the pool with the greatest purchase ever of a $3 ball
Joe Top N
Snorkling Xel Ha and seeing stingrays, Xel Ha zipline races with the family, Xel Ha tower/waterslide, Xel Ha floating/heaving bridge, Fives Main Infinity pool, playing catch and hanging out, Beach service for drinks, Kho Thai, loved the atmosphere and good wine, swim up room with banging AC, Hotel Gym <minus the gym nazi> Family workout in gym, Coffee shop, Hotel staff super friendly, Hotel guests really friendly, great atmosphere, Opossum creatures running around, CancunGuy Fieri restaurant in cancun airport
Joe Bottom N
Xel Ha zip biking, or parking the zip bike and waiting ..and waiting…Check in/check out a bit slow, gym nazi, Reservation system for dinners, it's covid, but still suboptimal, Waiting for bus to take us back from Xel Ha and the very long bus ride back, Running/biking in Xel Ha with sand in my flip flops. Totally ripped up my feet. 5th ave in general. Might be fun with a group of people looking to do shots, that's about it. Finding out my wife sold a kidney for an 80 minute massage, Power blinking out, but thankfully not for too long at any one time. The AC requires power, you really really want the AC to work in June. Seaweed on beaches, TFG my job isn't raking seaweed off beach. Mexican version of Sisyphus, Having visual confirmation: At a certain level of obesity, wearing a thong and being naked offer the same view, Mexico wears thin after a bit. Sherrie quote "I'm pretty much done with people trying to sell to me", Trying to find an open/working restroom in Cancun airport.