It's 12:30pm January 28th 2005 and Sherrie, Kevin and I are heading west in Kevin's Expedition to Silverton Colorado.
Excitement is high, as this is supposed to be something quite different than the typical ski vacation.
Silverton is unique, from it's brochure.
One lift
Experts only
You must have a guide
You must have an avalanche beacon, shovel and probe pole*
You will be hiking from the top of the lift
If you are a danger to yourself or others, they reserve the right to sit your dumb ass down without a refund.
* If the fact they require an avalanche beacon doesn't give a hint…

Oh yeah, you only get a no-show refund if both passes getting into Silverton are closed.
Sound like a day riding at Vail with Muffy and Biff clad in fur-lined hoodies and powder pants sipping lattes? Me neither.
Silverton is located in the San Juan mountains, Southwest of Denver. The area gets pounded with snow from storms which whip off the Pacific and drop the good white happiness in the form of powder. Proving you CAN get too much of a good thing, Silverton in early Jan got over 12 FEET in less than two weeks. The wind pushed powder in great quantities against the steep mountains and held it there. When the wind stopped in these snow-heavy areas, it let loose hundreds of avalanches in the San Juan Mountains. This shut down the ski operation and closed access to town for days.
To quote a local:
"Everything slid…..things that had been here for 30 years slid, the area was a wreck."
These slides were two weeks prior to our trip. A warming trend in the past week is leaving me with dread visions of 50 degree slopes with a thick crust of ice and an appetite for honky idiots (read us).
I counter that thought with mental visions of an untouched Steamboat Springs at it's best. Endless fields of white powder with but a few friends around.
We'll see how this goes.
Mid afternoon: The Expedition sucked gas, and we hauled fast westward at about 85 mph, slowing for drinks, fuel, and police as necessary. The late-day sun baked the front-seat passengers as we rode with miles of scenic red-orange snow capped mesas on each side of the highway.
A note about getting to Silverton
There are two ways to get there from Denver: West to Grand Junction and south over Red Mountain pass, or southwest from Denver up through Durango over Molas pass. We opted for Red Mountain as the faster of two evils. Both passes have reputations for being downright nasty. If we get turned back at Red Mountain, it will take hours to re-route to Molas pass.
The weather is calling for light snow, the roads look good and we turn south from Grand Junction.
Light snow is falling as we get south of Montrose. Past Montrose we continue to the small quaint town of Ourey at the base of Red Mountain pass. It's dark and snowing and everyone has a pretty good pucker factor going as we start up the pass.
Even with light snow, the pass is something to respect heavily. There are multiple places in the road that have eroded from the cliff drop on the right to the right white line. It's night and I can't see much, but what I can see looks to be a LONG, LONG way down. There are stacks of snow along the road which have been cleared after slides, some rising to 20 feet high in places.
Kevin is gripping the wheel and doing a great job with his 4wd pushing the Norwegian snow tires. Kevin, Sherrie and I strain to see through the falling snow and pick out things to avoid. I assure him that time is NOT of the essence, a sentiment which reverberates from Sherrie who is clinging to the roof in the back seat.
Did I pack a spatula? I may need it to get Sherrie out if/when we get to Silverton.
25 miles of white-knuckled-cheek clenching fun later, we exit Red Mountain pass and descend into the town of Silverton.
Silverton is a cute very small town consisting of about 12 small blocks of old to very-old buildings. We drop our gear off in the Alma Hotel, and walk in search of food. This choice is made easier by the single digit temps and the fact that at 7:30pm we only appear to have two choices.
We ate at the Brown Bear, got great service and food and retired to the hotel to try to get some sleep.
Everyone has that day-before-Christmas butterflies, and at 9300 feet, the thin air does not let sleep come easily.
Morning
It's time. Breakfast behind us, we follow the directions to Silverton ski resort. The directions are roughly:
"Head through town, when it doubt, stay left"
As we head the last few miles to the ski area. there are 20 foot high snow drifts which have been cleared from the road. Many have a variety of detritus in them.
Tree limbs, some huge poke out of the wreckage from the side. The entire ride to the ski area has the same signs as Red Mountain pass at about half mile intervals:
"Snow slide area, don't stop or stand"
As I look around at the avalanche debris everywhere on both side of the roads I think,
"Don't stop here?…..No shit."
We find the parking area right next to the lift, and a friendly guy tells us to head into the large tent to check in.
We go inside the tent to confirm our reservations. Everyone is nice and dressed in matching red north-face gear. The staff points us to their gear shop to get our packs, shovels and beacons. The gear shop is an old school bus behind the tent. This is adding flavor and a bit of humor to the sight of the lone two-chair lift climbing into the impressive mountains towering above us.
| | |
| --- | --- |
| | Yes we got our survival gear in a bus down by the river |
Sherrie and I get our gear and head from the bus to the tent to gear up. Sherrie's pack and beacon hang off her like Oprah's clothes foisted on Kate Moss. It's what they have, so that makes it just about perfect. One of the nice workers shows us the recommended way to stow everything in our packs to secure the shovel and such. Once again, I'm impressed with the professionalism of the Silverton staff. Everyone seems really positive and willing to help.
Their professionalism and confidence is allaying some of my extreme-terrain-from-a-bus concerns.
After getting gear on and ready, everyone rallies toward one of two signs near the lift:

Really fast
Medium
I'm surprised to learn the above speeds are not your ski-speed, but your hiking speed.
Sherrie and I hit the gym regularly, but are torn between the groups. Kevin is a good skier, but is not going to be a fast hiker. For that matter, I'm not sure how good a hiker I'm going to be at 12,000+ feet, and don't want to be the anchor in a fast group….Then again, I don't want to be bored silly waiting for people to huff and puff for 30 minutes at a time either.
Dilemma Solved
I run into a Brian Deardorff from work who's got 4 guys with him: Bryan R (yellow jacket), Brian W (Brian-w-beard), Brian D, and Bill Nelson. Team-B as it were. They were having the same debate about fast-vs-slow, so we all ganged up to form a group. Kevin and Brian D are the only skiers, the rest of us are of the knuckle-dragging variety*.
* Know the difference between a vacuum and a snowboard? Where you attach the dirtbag.
The guides are adding, merging and organizing to get groups together. We get John Shockly. John was notable from the others doing the same work due to an AMAZING amount of facial hair protruding around his goggles and over his collar. John appeared to have more fur than hair, and unless he was speaking, had no discernable mouth. The unusual look was accented by the glasses he wore under his goggles.
I'm thinking that look would make one hell of a disguise, and wonder about heading into the wilderness with this as my only link to civilization….. My insane delusions vanish quickly when we meet John, though the endor-native image remains.
| | |
| --- | --- |
| Note, this isn't a mask he's wearing. | |
John is soft-spoken, well organized and takes us through the drill of using the ave beacon to find other ave beacons, and such.
I'm pleased to learn they Silverton has their lift chair running at full speed for the first time in a few weeks. The huge early January storm had taken out their generator, and the backup gas generator could only minimally operate the lift. Yesterday the lift was taking 40 minutes to get to the top.
| | |
| --- | --- |
| | Here's the sign next to the chairlift |
The lift drops us off quickly into a small area. We take off our boards and hike up the 30 yards to the rallying point. At the rallying point the group assembles and we start our climb.
The view is spectacular. We are on a narrow spine which goes in a few directions. Everything is white and beautiful. The boot tracks up the spine give Sherrie and I an idea of what's to come.
As the rest of our group gets off the lift, John tells us we going to do a bit of a hike.
The hiking is non-technical, but non-trivial. The path doesn't require snow-shoes, it's compacted well enough for boots. That said, there isn't a lot of air at 12,000 feet, and I'm breathing heavily by the time we stop. I'm guessing the climb was about 7-10 minutes, but time is hard to judge as I was mostly looking at my feet and trying not to run into the person in front of me.
John tells us to wait, and heads over to a cornice to survey the snow. John is digging holes, and looking at the layers. Everyone in our group is exchanging the same ragged breathed idea:
"Run one is a cornice drop?"
We look down to see John starting to stomp his downhill ski on the upper edge the slope to see if anything is going to give. I'm not sure if this is just being thorough or freaking nuts.
As I get to the edge, the beautiful expanse of steep white looks soft and great. My stoke factor is kicking in as I board up, and Kevin, Sherrie and I exchange smiles.
This is going to rock. First one in gets the …..wait a minute… we have to wait for John? Oh yeah, it's a guided trip.
Now for the weird stuff…ok it's weird to me as I don't ride backcountry or do guided riding.
John tells us to go one at a time, as it reduces the snow slide potential. He then takes off and heads about 500 yards down from the steeps, across the flats to the top of a chute. When John looks back and waves, it's time for rider #1 to go.
One of the Brians takes off and we wait as he makes his way to John. How can I be anxious, excited and bored at the same time? After a short discussion at the top, the group decides we should send a snowboarder last. My thought is that I'd rather go behind the skiers and help gather scattered ski-bits if they yard sale, than wait as the fallen try to scramble back up a 40 degree powder-lathered face to get their gear.
Not quite altruism, but good enough to get a laugh from Kevin when I share the thought.
| | |
| --- | --- |
| | Yard sales aren't fun on this |
Everyone is riding a bit tentatively and it's obvious no one is yet comfortable. Sherrie drops off the cornice and picks her way to the group without much fanfare.
My turn. I slip off the cornice and have a good idea of what to expect from watching everyone head down. From the way the riders were bouncing about after their initial drop, my guess is the snow is thicker than it appears. This is confirmed as I go off the cornice to the steeps.
Variable would be the word I'd use for the snow. From bottomless powder to thinly covered rocks and everything in between. Pockets of perfection next to rodeo style bumps with thick powder and buried avalanche debris between. Everything looks similar, but feels vastly different.
Just as I'm getting used to the conditions, I get to the group. John instructs us to head down a gulch, and to NOT hit the perfect, make-your-mouth-water-untouched-white-perfection sidewall on the left. Brian W asks him why. John asks if we know what undercutting is?…no one in our group does.
"That's where you start an avalanche by disturbing the snow at the bottom of a snowfield."
John goes his 500 or so yards, turns and signals. Kevin takes off and we wait.
Brian W asks me and Brian D if he thinks he'd get yelled at if he hit the picture perfect sidewall anyway.
Brian D and I reply in unison:
"Not if you're already dead"
Brian W goes next and forgoes the sidewall.
Brian D. is next. He takes off, and has a quick unplanned stop. Sherrie earns a karma point as Brian D's initial aggressive descent into the gulch segways from 2′ powder to covered rock. One of Brian's ski's ejects on heavy load leaving a ski a few feet above the quietly cursing freshly rolled Brian. Getting the ski from below isn't working as the snow is coming down, and Brian isn't going up as he attempts to climb to his ski.
Sherrie slides down and has to take off her gloves to wrench the stuck ski out from between the rocks. Brian is underway. It's obvious Brian D. is a really good skier, but bad luck and a couple of thinly covered rocks left him a bit embarrassed. No worries as the day is young and I'm guessing everyone will get their chance to fall.
My turn, and with some regret, the gulch it is. I concentrate on the moguls and avoiding the rocks and trees to help ignore what I'm missing to my left. The remainder of the run is a combination of steeps, sitting, traverses, steeps, sitting and a long run out to the road.
Run one complete.
Analysis
Riding Silverton is much harder this way than Silverton would be resort-style.
Yes the terrain is steep and nasty to the point of ridiculousness at times, but sitting for 10 minutes between segments kills rhythm. Kevin noted: "Just about the time I get my feet under me, we stop"
Everyone is pretty stoked from the first run and itching to do more.
We get on the bread truck turned bus and head to the base. Sherrie and I quickly grab our 35mm cameras, stow them in the backpacks and hit the lift. Chair lift up and a much longer hike ensues.
I quickly go from comfortable on the lift to overheating. Taking off a layer is in order. Kevin is puffing, and I'm remembering that I hate backpacks on the slope.
This time we get a very steep drop into good but thick powder for the first segment. By now I'm used to John stomping his ski at the top to check the snow slide potential….sort of.
Everyone is looking much better on their gear as the rust is kicked out and nerves relax…..well relax as much as you can while dropping in a 40+ degree slope with unmarked obstacles and the entire group watching and waiting.
Getting to our stopping point John has us wait as he digs into a bomb-hole to check the layers on a slope they were possibly going to open.
John surveys
John Digs in
Sherrie waits
John radios back the base layer is frozen and we're cleared to to the slope one at a time. Oh yeah, and avoid the bomb-hole 40 yards out which John just checked. Bomb-hole is now in the stuff-to-avoid category in addition to rocks, thin snow, covered creeks and buried logs that John points out with with confidence of someone who's been here more than a few times.
Note bomb-hole isn't a euphemism for something, it's actual anti-avalanche artillery holes. We head down the fun and steep V-shaped field one at a time, and I'm starting to have a great time. Sherrie is smiling widely as she pulls up to our next checkpoint. We stop and re-group under a cliff, and wait for everyone to catch up on the traverse. The hillside is so steep, it's easy to sit back against the hill and relax. The traverse was long and tiring as it was an uphill fight for some distance. Our next descent is a wide-open deep pretty flat powder field. I'm hoping to get some good shots of everyone coming down the field.
Photography of the better sections is proving a bit difficult. Most of the runs have a very-steep section, followed by flatter terrain, then a stopping point. I regret not taking my 300mm lens as most of the better shots are too far for my 100mm. Out of the entire day, there are only one or two places to get decent shots without the aid of a long lens.
A unusual note about our path down the hill. On all of our runs, John is either setting a left or right boundary. This is minimizing how much of the hill the 7 of us are tearing up. Though it seemed to be a bit of a cramp, in retrospect, it looks to be a good way to efficiently use the mountain.
I go first into the powder field after our extended traverse, and the powder field is MONEY. Sweet and deep getting sick floating turns. This terrain is pretty playful and everyone is loosening up. Ear-to-ear grins are ubiquitous as we get to the John-stopping-point. I snap shots as everyone descends.
A long run-out at the bottom and we're back to the bus. On the trip back I notice the driver shifting from D->N on the downhill. Brian D noted the tank was on empty.
We get a small quick lunch purchased from Silverton, and we're back on the lift in about 15 minutes. I'm shocked to learn it's 1:30pm. John promises something special at the top. A quick hike up and we run into another group starting near the run we're about to take. We wait impatiently, no make that really impatiently at the top for at least 20 minutes as the group ahead of us does the one-at-a-time thing.
You people make make my ass twitch — "French Kiss"
While waiting, I'm surprised to learn that John helped build Silverton. More amazing is that most of the lift-towers were hand dug, with the top landing station taking 6 weeks to dig out, 5 of which were raining. That's dedication.
The Brians, Bill, Sherrie and I barter with John to ensure a 4th run. I proffer a modest proposal for a 4-at-a-time descent.
John deadpans:
"How about we go kamakazi style? Everyone to the bottom at the same time and I'll buy the winner a beer"
I look at Brian Deardorff who's looking to throw a left elbow at Kevin and dive right over the edge. I start the fast-twitch engine as my eyes widen and pulse quickens, everyone is starting to shift in their boots….
"JUST KIDDING" John bellows, breaking the tension.
Awww… crap.
We finally, finally, finally get the green light, and it's like a run dropped from powder heaven. Phat 18″ of perfect fluff covering everything. The next few hundred yards melt into white excstacy. We stop above a rope strung between 2′ and 7′ above the crest of the next hill: Stopping was a 'good thing' as the rope was occluding about 40 yards directly in our path. The rope is strung from trip-em-up to hang-em-high, and flying over the crest would have been….bad.
John has us one-at-a-time duck the rope down into a gulch below. Mad snow continues. I'm cutting fast wide turns as fast short turns are blinding me with my own spray. Grinning ear to ear everyone starts stacking up. Bill is flexing some great skill on his board. Kevin is plowing through the powder like a man on a mission. The Brians are carving, shredding, flipping and flying with happy abandon. This is why we came here. This run is brochure perfect.



Brian D and Kevin both show that skis really do work in powder.
We regroup on the other side of the powder field, then drop down a small steep tree studded gulch. Kevin has an unintentional dismount and disconnects from his skis. Kevin has gone from getting tired and kicking ass at the top of the run to just tired. On this severe terrain, tired is close to scary-tired which is close to a helicopter ride to the hospital.
Bearded Brian W plays snowboard trailer and helps Kevin, who is exhausted.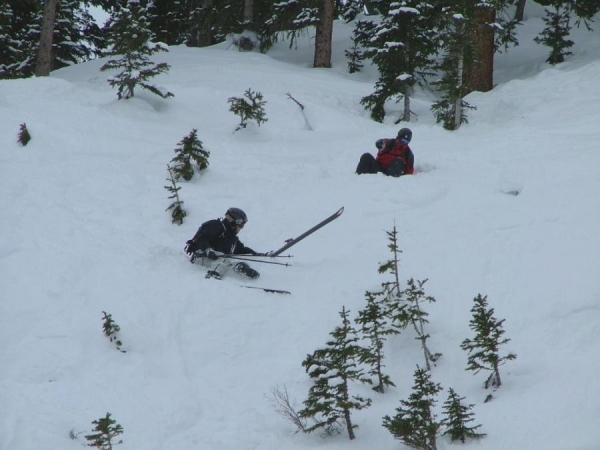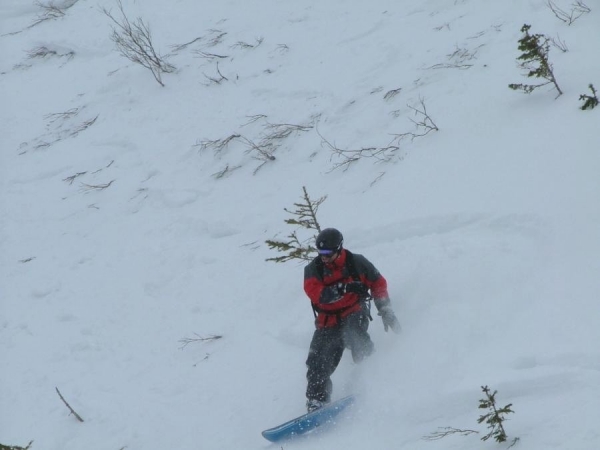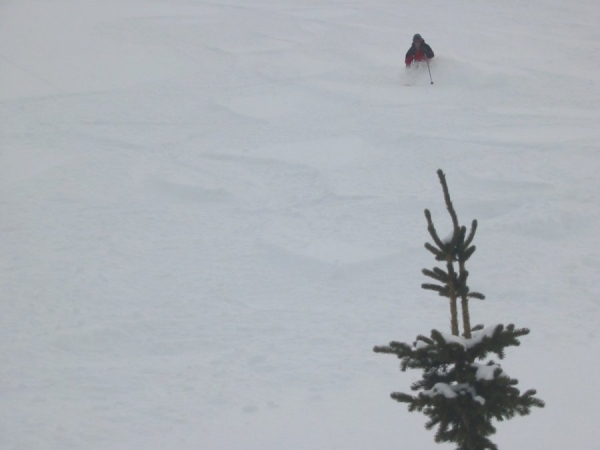 I meet John at the start of the run-out at the bottom and ask him if we're going to get a 4th run. John tells us it's going to be a game time decision, as we're pushing the 3pm lift cutoff, but we'll see at the bus pickup.
I head down the traverse and run into Sherrie and Brian D already at the bus-pickup. Kevin, Bill and the other Brian's arrive. Kevin looks like he just went a few rounds with Janet Reno.
Put a fork in him, Kevin is cooked. Kevin takes off his skis and declares it a day.
While we wait for the bus, I'm mentally toying with a variety of strategies to get John to green-light the 4th run. Including but not limited to bribery with beer (Typically a mountain local's weakness), lying about the time, and the last ditch hurl-ourselves-at-the-lift, come-catch-us-goddammit strategies.
Brian D is entertaining a similar but more straightforward cash-based approach. We compare strategies and plot furiously.
John shows up a few painful minutes after our last rider and starts calling in on his radio to see what our status and last run possibilities are.
John tells us the strict 3pm cutoff is due to the rider rescue evacuation conditions at Silverton. To evac anyone from the mountain, it's at least an hour down, and an hour to town.
Kevin wryly interjects
"I'm not going on the 4th run, so that makes 6 of you, and much less chance of someone needing medical attention"
At $150 a lift ticket/backpack combo plus hotel and gas, I'm upset at the thought only getting 3 runs. Missing the last run by some slim margin is unacceptable.
John hears back from the radio that we're good to go, but we'll have to hurry. We disembark the bus at a fast jog and we're on the lift at 2:58pm. I look back to see Kevin wave and he starts toward the tent.
Our last hike up is our longest of the day and it takes us to a long traverse leading to a narrow ridge. From the ridge we will start our descent.
Visibility has gone from sunny and bright, to snowing and dull gray with flat light. The traverse is difficult to see as our group rides it one at a time into the distance. John informs us that we MUST take the traverse and if we fall from it, hike back up to it. There is no second option.
He also gives us the only not-great informational-tip of the day. John says we're going to need some speed on the traverse at a certain point near the end.
I go last behind Sherrie. The main problem I'm having on this slicked out, stuck to the side of a white wall traverse is NOT GOING FAST. Speed-checking is difficult on the 12-18″ trail with a drop off on the right, and a wall on the left. Visiblity stinks with the flat light. I've taken to digging the nose of my board into the wall for minimal braking power. This works until I stick the nose too hard into the wall and helicopter backwards off the traverse. I get a moment of sunlight and the slope lights up as I stand. I see I can still easily make the group from where I've landed.
Our group is assembled on the ridge at another cornice, but this time the snow looks light, fluffy, deep and inviting. Mad-mad powder! Very steep, but the only dangers are some easily spotted rocks which have cliffs for a backside. The run is steep powder perfection and the prescription for the stairmaster from hell we've just done. Sherrie is throwing up walls of white as she turns. Bryan R is getting some fun jumps as he bombs toward our group. Bearded Brian cartwheels and keeps going. Bill and Brian D are looking strong as they pull into the next stop-point.
From this point it is a heavily cautioned easy-looking-gulch run to the bottom through the falling snow and dull light. Each rider going at about 10 second intervals with John trailing. The run-out is flat enough to be absolved from the one-at-a-time avalanche precautions.
Before embarking on even this trivial run, John gives us the full prep:
"This run out is pretty easy, but is more dangerous than it looks, there's a lot of avalanche debris on both sides, some of it coated with a nice couple inches of powder. Oh yeah, some of those small bumps are logs, so if you go to jump, plan on the bumps being solid."
I'm cooked as I get to the bottom and unboot. All Brian's, Bill and Sherrie are smiling and tired. I'm happy and satisfied.
If there was time, a 5th lap would have been out of the question. We wait a few minutes catch the bread-truck/bus back to the base.
Everyone is satisfied with our 4 run day, which seems a touch odd. That said, the 4 runs is about all any of us wanted or could have handled.
We retire to the tent that now doubles as a bar. I'm irish, they have beer, and life is good.
What I learned today
Silverton is different. They have some of the more extreme terrain available. The variable terrain combined with the stop/go pace with a hike-to-it starting point is a unique experience.
Take avalanches seriously. I never short-changed them, but seeing the size of some of the trees which were sticking out of the wreckage was eye-opening.
I know nothing about avalanches. The exception to this is the maxim I got from looking at the slopes, then listening to John. The summation of my mental notes vs John's knowledge is roughly:
If the slope looks tasty and I want to ride it, it's probably a bad idea.
I could use a longer board for the variable conditions. I have a boardercross board, which is narrow. It's fine in consistent powder but in the powder/not/powder conditions, a longer board would have floated easier and smoothed out the bumps.

Silverton Summary
Silverton is truly unique. Many rural Colorado areas decry the building of a ski area in their pristine version of nowhere, preferring instead the headier banjo-laden times of old. Silverton town locals are quite enthusiastic about Silverton ski area. Everyone I ran into in the town thinks it's wonderful. The ski business, admittedly small at a maximum of 80 people a day, has breathed new life into Silverton in the winter. There are enough people coming in to keep many of the businesses open, and the environmentally sound way Silverton is being operated seems to go over well with everyone. Silverton for the most part used to board up for the winter, it now has a pulse, and I'm glad for it.
Will I be back?
Yes, but I'm not going to rush back. When I come back, I will most likely hire a private guide and go two days.
The drive, cost, sitting and waiting mitigates fun of the extreme runs to some degree, but the overall Silverton experience is one every seasoned rider notch their belt with.
Great operators with super attitudes, extreme terrain and a quaint mountain setting are all waiting for you in the beautiful San Juan Mountains of Colorado.
Credits: Some of the photos are Bill Nelson's and can be noted from the _bill_nelson in the photo name